Say Goodbye to Major Roof Cracks: How to Fixing and Preventing Damage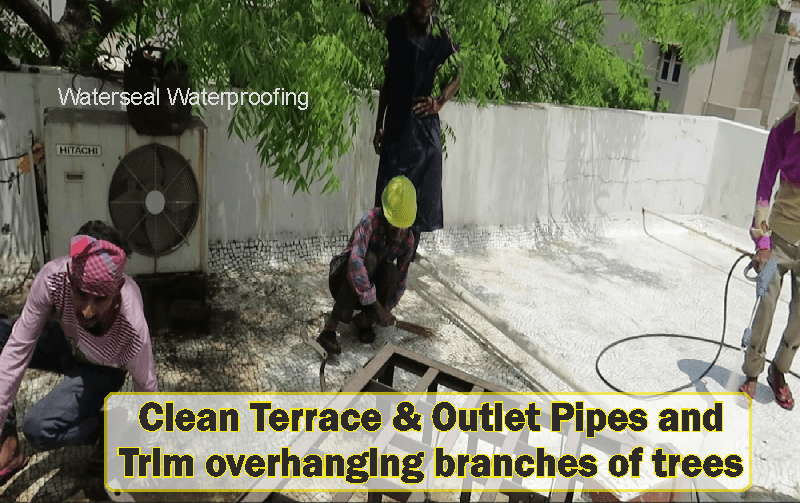 Understanding Major Roof Cracks
Roof cracks pose a significant risk to the structural safety of your property. It is important to understand the causes of roof cracks and repair them to prevent further damage.
Major roof cracks can be caused by a variety of factors, such as extreme weather conditions, poor construction, earthquakes or the natural ageing process. These cracks can be vertical, diagonal, horizontal or even in different shapes as seen in dry soil.
When large cracks in the roof i.e. 1mm to 6mm are easily visible it is important to take immediate action to prevent further damage. Here are some solutions to solve this problem yourself.
Assess the damage: Inspect your roof to see if there are any major or minor cracks. Because of this, look for signs of water leakage, moisture or crusting in the ceiling inside your home and note the severity of the damage.
Call a professional waterproofer: Unless you have experience with roof repair, it's best to leave the job to the experts. Contact a reputable roofing contractor who specializes in repairing large roof cracks. They will have the knowledge, skills, team and equipment to handle repairs safely and efficiently.
Repair or re-plastering : Depending on the extent of the damage, your roofing contractor will recommend either repairing the cracks or re-plastering the area where there are more cracks or the plaster has come off.
Importance of regular roof maintenance
Once the repair, patchwork or waterproofing is completed, preventative measures must be taken to avoid future roof cracks. Inspect your roof regularly for any signs of damage, and keep outlet pipes clean. Do not collect any debris on the roof. Such as extra bricks, piles of sand, increased tiles or unused or waste materials. Wash and clean before the monsoon. Trim overhanging branches of trees or vines to prevent possible damage to the roof. By doing this, if any cracks open or appear on the roof, inform your waterproofer and get it repaired in time.
By performing regular roof maintenance and addressing minor problems early, you can avoid expensive repairs or re-plastering. Which is caused due to roof maintenance and carelessness.
Don't wait until small roof cracks start to leak and damage the home. Take action today to fix and prevent further damage. Remember, regular roof maintenance is the key to a safe and durable home.
Instant Crack-Filler Kit / DIY  Easy Terrace Cracks Repairing
PSv Super mix – 5 Kg
PPC Mat Strips – 1 Kg
2 " Paint Brush -1
1. Glass Sheet Cutter – Hand Tool
4″ Hand Scraper – 1
Hard Metal Wire Brush -1
How to Apply Instruction- Hard Copy
How to Fix Terrace Cracks by your self
If you're looking for ways to repair the cracks in your terrace on your own, below are some steps you can follow. Please note that this process can be time-consuming and may require specific tools and materials. ( Buy All in one Waterseal's Instant Crack Filler Kit)
1. Clean the crack – Use a wire brush to remove any dirt,cement crust or debris from the crack and clean it.
2. Cut grooves 2 to 4 mm deep in each crack with the hand scraper and glass cutter or poker provided in the kit. If possible, it is more convenient to use an angle grinder machine to open the cracks in the V shape. (Grinder machine will be available for hire from electric shop and wiring also, keep in mind that running a grinding machine is a big risky job; only experienced Electrician and mechanic can operate this machine properly.)
3. Fill the crack Properly  – Now prepare a solution by mixing 1 kg of PSV-Super with 500ml of clean water. Pour this solution into the exposed cracks and let it set for 10 minutes. If any cracks require more solution, refill them.
4. Smooth the surface – Use a 4″ Hand Scraper to smooth the surface of the filled crack.
5. Protect cracks with PPC mat – Sunlight and heavy rains tend to re-open the cracks, so it is very important to protect them with PPC mat. After leveling each crack with a scraper, apply PSV Super-Mix directly over the surface crack with the 2″ brush included in the kit. Place the PPC Mat over it, and brush the coating over it. The mat should stick to the surface evenly and in place. Be careful not to trap air.
6. Allow to dry – Let the filler dry for at least 24 hours before walking or placing any heavy objects on the surface.
Keep in mind that for larger cracks, or if you're unsure about the process, it may be best to seek the help of a professional.