All Types of Waterproofing Services
Are you searching for reliable and effective waterproofing services and solutions for your building?
Look no further than Waterseal Waterproofing Services. Regardless of whether you need to safeguard your roof, terrace, bathroom, basement, pool, or water tank, we have the expertise to cater to all your needs.
With our professional services, you can ensure that your property remains safe from water damage. Our team of experts excels in providing top-notch waterproofing services tailored to meet your specific requirements.
Don't let water damage threaten the integrity of your building. Choose Waterseal Waterproofing and enjoy peace of mind knowing that your property is well-protected.
Waterseal waterproofing services are committed to ensuring your home is safe from water leakage problems for many years. We provide a five-year written guarantee on every work we do to give our customers peace of mind. In the unlikely event that any defects are inadvertently left during the work or if there is any leakage within the five-year period, we will fix the problem free of charge. Trust us to keep your home dry and safe from water damage.
We make sure to prevent water from entering any type of building, whether it is old or new, and regardless of the material used, such as china mosaic, plaster, stone, or tiles.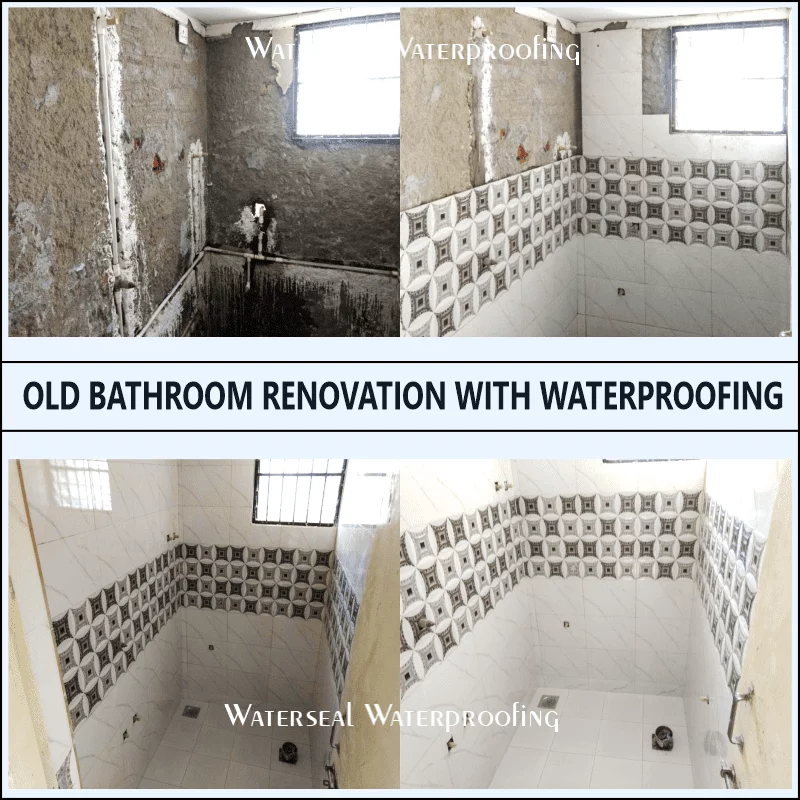 Keeping your bathroom leak-free is easy with Waterseal PSV. We offer services and chemicals that are specifically designed for bathrooms, regardless of whether they are old or new.
If your house has any water tanks, like an overhead or underground tank, it's crucial to ensure they are built Strong and waterproof. Our team has the necessary expertise to waterproof  this.
Moisture and water in a house's walls can cause significant damage to the building. we offer a permanent solution to this issue by applying new waterproof plaster and three layers of waterproof coating to effectively dispose of the problem.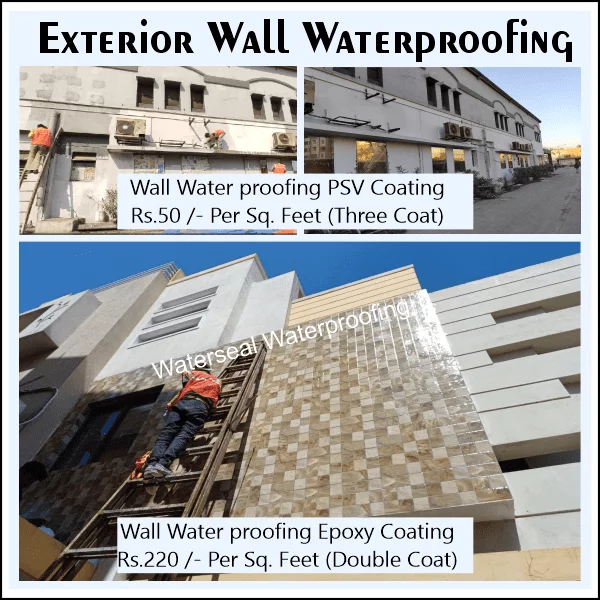 A highly recommended solution in preventing water seepage into exterior walls is the use of Waterseal PSV. This specialized treatment offers long-lasting protection against moisture, ensuring that your walls are free from any water damage issues if water seeps from the basement's walls and floor.
If water seeps from the walls and floor of the basement during rainy season, it can harm the building. It's best to waterproof the basement during construction. We can also waterproofing Services for old leaky basements.
Waterproofing during construction is an essential step in protecting your home from moisture and water damage.Why is waterproofing important in building construction?
We provide satisfactory waterproofing Services of industrial Structures  like foundation slabs, cement sheds, metal sheds, flooring, water, and chemical storage tanks etc.
We can help coat the floors and storage spaces of factories that make food, medicine, and other things. This coating uses a  Epoxy or polyurethane. If you need any Details Please contact us.
Talk To Our Experts And Get Your Solutions.
Watch waterproofing Services tutorial video.